Give your dog only the best
The special thing about our Doggyroller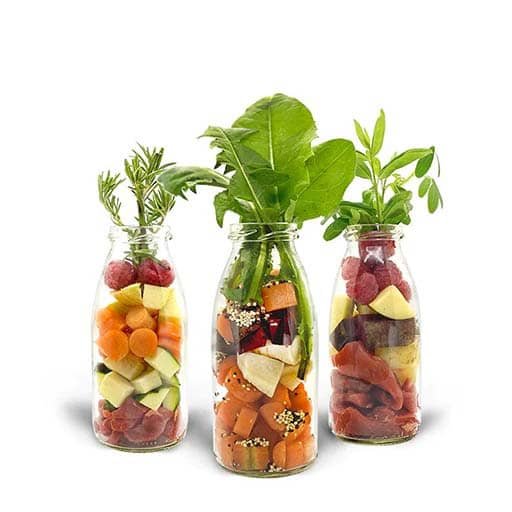 1
Fillable with healthy smoothies
100% food-grade and therefore absolutely healthy, no hidden by-products. Choose from 7 different varieties.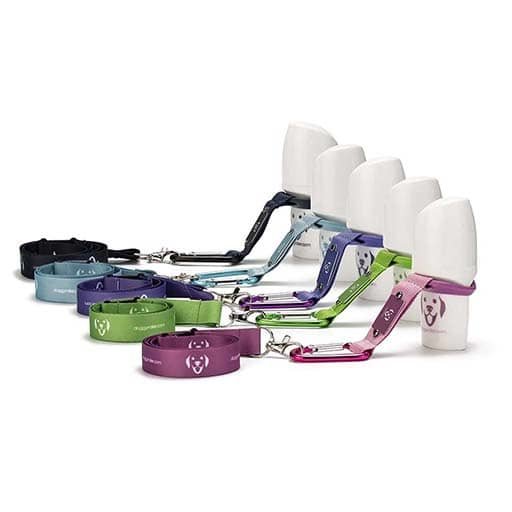 2
Hygienic and cost-saving
No more unpleasant smelling hands and dirty pockets like with conventional treats. Refillable and sustainable.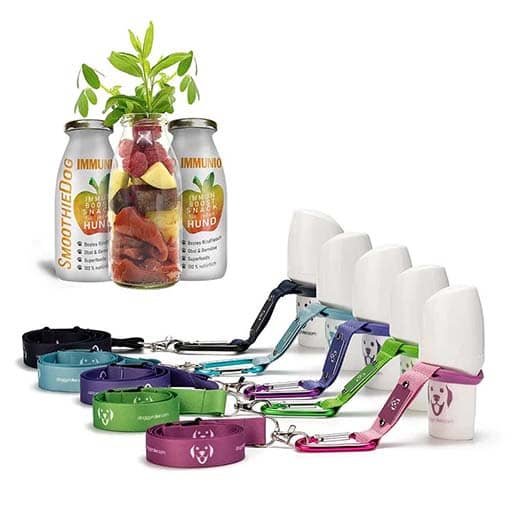 3
Calming in stressful situations
Ideal for the vet, as a distraction, during dog training, at dog school, or as a reward during your outings.
€23,23 instead of €25,80
Our outdoor set is ideal for all outdoor activities with your dog, such as:
during hikes
long walks
at dog school
in agility or other dog sports
 
The water and food bottle has a capacity of 900ml, providing enough space to supply your four-legged companion during outings and short trips. This hygienic and practical bottle can be used in various ways.
Check our categories
Here you will find everything about the Doggyroller
Over 30.000 four-legged or two-legged beings are already enthusiastic customers of ours! Order our practical Doggyroller and a few smoothies to go with it.
We have known the smoothies for a while now and are enthusiastic customers of the Doggyroller. Fast delivery and excellent service. Absolute recommendation for purchase :)
The health of our dog is very important to us. That's why we always make sure he gets only healthy food. We have switched to a raw food diet (BARF) and the smoothies complete the whole thing.
My little Maya has become a huge Sensitivo fan. Unfortunately, she can't eat everything due to her allergy. But with Sensitivo, we have never had any problems from the beginning.
The vegetable smoothie was a bit strange for us at first since dogs are supposed to eat meat. However, we always order the other varieties anyway. Including vegetables and fruits can never harm, and thus, the vegetable smoothie is also well-received.
Treat dispensers for dogs: Doggyroller, Doggytube, Doggypumper - practical and versatile
Are you looking for a treat dispenser for your dog? Our Doggyroller treat dispensers are the perfect solution! With the treat dispensers from Doggyroller, such as the Doggyroller, Doggytube, and Doggypumper, you can make your daily life easier and provide a hygienic and convenient way of rewarding your furry friend.
The Doggyroller treat dispensers offer numerous benefits and can be used in various situations. Whether you are feeding your pet a raw food diet, training them, using it in obedience training, or simply rewarding them during daily walks - the Doggyroller treat dispensers are versatile. They are also recommended by pet therapists during sessions, for trick training, vet visits, sports activities with your pet, and to provide comfort during stressful situations.
Do you want to know more?
Who is behind Doggyroller, where did the idea come from, and why should you get a Doggyroller too? Learn more about us.
What are dog smoothies?
Our smoothies are delicious treats that provide your dog with nutrients, vitamins, and vegetables, aiming to support your dog's health.
Doggyroller treat dispensers filling possibilities
These treat dispensers can be filled with a variety of treats. The Doggyroller is particularly suitable for liquids and has a capacity of 50 ml. It is popularly filled with dog smoothies, but you can also use it for soups, diluted pastes, probiotic yogurt, Doggyshake (mixed with water), and nutritional supplements like Omega-3 oil.
The Doggytube offers a large capacity of 90 ml, making it suitable for large dogs as well. You can fill it with minced wet food, undiluted pastes, thicker smoothies, and other thicker substances.
The Doggypumper has a capacity of 50 ml and is ideal for semi-solid dog food, such as minced wet food. It allows you to have your pet's favorite food readily available, even on the go. Additionally, you can fill the Doggypumper with undiluted pastes or heavily soaked dry food (feel free to experiment!).
Discover the advantages of Doggyroller treat dispensers:
•    Refillable for sustainable use
•    Hygienic and easy to clean, even in the dishwasher
•    Calming application for your pet
•    Flexible filling options with various treats
•    Convenient and portable for on-the-go use
•    Stylish accessory for pet owners
•    Strengthens the bond between pet and owner
•    Easy-to-use for stress-free rewarding
•    Controlled treat dispensing
•    You determine the content and can cater to your pet's individual needs
The Doggyroller treat dispensers are not only practical but also popular as fashion accessories. They complement any style and are eye-catching due to their hygienic application and stylish look.
Explore the versatile possibilities of Doggyroller treat dispensers and make your daily life with your pet a breeze!